GHS tightens security with mandatory IDs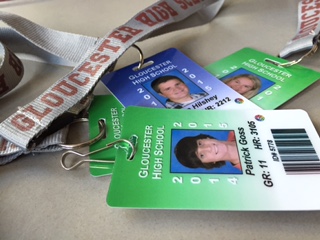 Students were called to an assembly on Friday to roll out new security protocols at Gloucester High School.  Starting Monday, November 10th, student and staff identification badges must be worn and visible at all times.
GHS Principal Erik Anderson said the new rule is intended to ensure the safety of students. According to Anderson, people who do not belong in the building have been finding their way in.
"I know this building is not as safe and secure as it should be," said Anderson at the ninth and eleventh grade assembly this morning.
Anderson says because anyone can come into the school and look like a student or staff member, the  IDs will make it easy to identify someone who is not supposed to be in the halls of GHS.  It also creates a way to identify everyone in the school.
The requirement that student IDs should be worn at all times was attempted last year. Students did not respond well to this new rule, and it did not go as planned. This year however, the rule will be enforced.
Students who forget their IDs will be sent to the office for temporary ones. If a student is caught without his or her ID a third time, he or she will receive detention and administration will call home.
If a student is caught without his or her ID a fourth time, he or she will be suspended for one day.  Continued non-compliance will result in additional suspension.
"Everyone knows each other in this school," said Christian Sanfilippo, a student who is opposed to mandatory IDs. "Why do we need them? It seems a bit excessive."
Visitors will be asked to sign in at the main office before they go anywhere else in the building. They will be required to wear a visitor's pass.
"Your seventy year old grandmother, who is no threat to a fly, she is going to come to the office and get a visitor's badge," said Anderson.
The carpentry class is building a half wall to block part of the main entrance, so there is no way for visitors to avoid the main office.
"It isn't something we have to like. But, it is something we have to respect," said Dean of Students Chris Kobs.
With a recent arrest at GHS, a bomb threat at O'Maley Middle School, and a lock down drill this week, student safety has become a main focus.
Eventually,  all students will be asked to enter through one door, and other entrances to the school will be locked and restricted from use.  Anderson says he has considered the possibility of students trying to find ways to keep the doors open. "I was a high school student," said Anderson. "And it would have bugged me too."