GHS Engineering to the rescue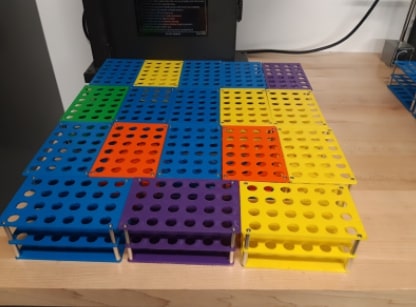 A robotics company that manufactures machines that test for Covid-19 encountered a shipping issue over the winter break. The company that supplied them with test tube holders is located in Germany, and they were not allowed to be shipped into the United States. The test tube holders are very necessary for the testing process, and the company needed a solution.
Thanks to the hard work of the Gloucester High School Engineering Lab, Kurt Lichtenwald, and Tim Quinn, a solution was found. They donated so much of their time and labor to creating the test tube holders for Eppendorf North America.
First, a model of the product required had to be created in Solidworks, a computer program for 3D printing.  After sending a prototype to the company for approval, the production began.
"We took a picture of the product that they sent us and created it in Solidworks. 3D printed the part – 17 hours per print of 2 test tube sets," Lichtenwald said. "We ordered parts for assembly. Sent prototypes out for company approval. Then spent hours running and monitoring 3D printers" 
In addition to monitoring the printers, the people involved in the project had to clean and assemble the parts, as well as do quality control. After, the products were shipped for distribution.
Eppendorf donated money through the GEF for the engineering program, which will be used for equipment for the lab. This was the engineering program's way of helping fight the COVID-19 pandemic. Hours of work were dedicated to making the product in the best way possible, and for a very good reason.