Maybe 2020 wasn't all bad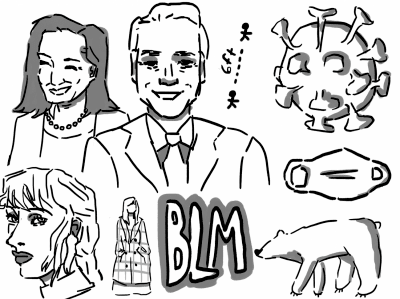 The year 2020 may go down in history as one of the most chaotic years in this century.  Wildfires, a global pandemic, people quarantining for months on end, UFO scares, murder hornets; the list goes on. 
Despite all this, the year surprisingly had a lot of good moments too – they just ended up buried by all of the craziness. As we wait with anticipation for what 2021 brings, it is important to reflect on all of the progress that was made this year.
Record voter turnout and increased diversity in government
The 2020 election was important for everyone in the country! Despite the pandemic, citizens had their voices heard by voting in record numbers, including large numbers of young voters. 
Joe Biden won the election, making Kamala Harris the first woman, and first woman of color, to be elected Vice President. We also have the most diverse Congress in history, with many Indigenous peoples and people of color.
The LGBTQ+ community also won big in this election. Across the country at all levels, a record number of LGBTQ+ candidates ran for elected office and won. Many states had transgender people elected to legislature for the first time. 
Black Lives Matter movement spreads
With Black activists at the helm, the Black Lives Matter movement gained traction across the country. People of all races marched together against white supremacy, police brutality, and racial injustice. This is a marker of true reflection and reform in this important area. 
NASA makes progress 
The US launched a US-made rocket to the International Space Station. The trip went as planned. This shows a growing independence from foreign technology and of more cost-efficient and safe space travel. 
Tons of new music
Quarantine gave plenty of time for artists to record new albums, seeing as there was lots of great music in all genres this year. 
Taylor Swift's two albums,

Folklore

and

Evermore

, changed perspectives about her music and showed impressive range. With

Evermore

at the No.1 spot on album charts and the song

Willow

at No.1 on songs charts, Taylor Swift is the first artist in Billboard Charts history to debut at the top spot on both charts simultaneously twice!

Lil Uzi Vert's

Eternal Atake

had an impressive showing, with 400 million streams in the first week. That is the fourth-largest number of first-week streams since 2018. 

The Weeknd released his fourth studio album,

After Hours

, in March. Fourteen songs from the album were in the top-100 charts, making it a certified Platinum Album.

Dua Lipa released her pop album,

Future Nostalgia

, with Warner Records this year. It is the highest charting album from Warner since 2018. It also has the largest number of first-week streams from the label. 

Miley Cyrus showed more of her talent and range, releasing

Plastic Hearts

, a rock album. It hit No.1 on the Rock Albums chart, even pushing out bands like AC/DC for the spot. 
Progress in the climate change movement
This year, carbon dioxide emissions declined, along with the cost of renewable energy, like solar and wind power. According to the International Energy Agency, close to 90% of the new global energy generation this year was renewable. And, with Biden to take office next year, people are hopeful that the Green New Deal will continue this change. 
The pandemic brought people together
The pandemic was, as we know, not easy. But it brought people together in inspirational ways. We were reminded of the selflessness and importance of healthcare workers, and other essential workers that risked their safety to keep the country running. People learned to adjust in these times and helped others along the way. 
Through all the hardships, the country truly came together and made some real progress this year. Now comes time to look forward to the new year and celebrate these accomplishments.