Auto students restore 1956 Ford pickups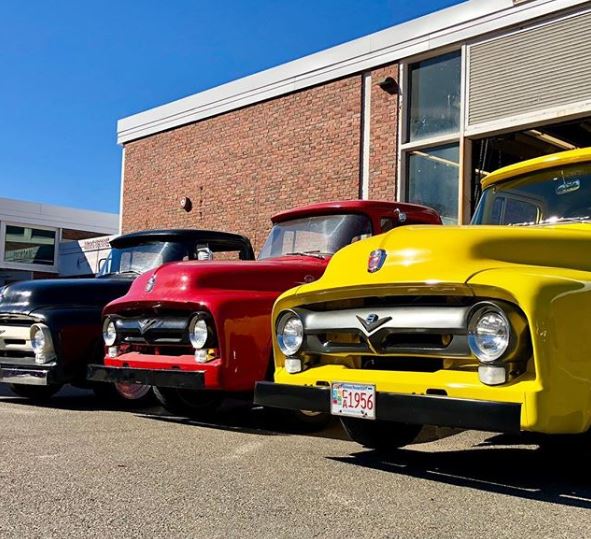 The GHS auto shop is constantly bringing cars in and out of the shop, doing jobs, and learning to move quicker by working smarter instead harder.  Recently, students in the program got the chance to work on three 1956 Ford pickups.
Restoring a car is like "Bringing a person back to life," said Auto shop teacher, Billy Martin. "Some of the parts made for cars like a 1956 pickup you can't just get anywhere."
Students made lots of repairs to Martin's black 1956 ford pickup, including fixing a radiator leak, putting on an entirely new original chrome front bumper, replacing the fan belt, rewiring damaged wires, and reinstalling a radiator hose.
When working on these vehicles students must be aware of themselves to avoid scratching or chipping the paint. All interior and exterior features are  original.
"We get to see things the way they used to be," said Martin.
L0ts of progress has been made on the Fords, but the red model still requires work.  So far students have replaced the passenger side window, and done some body work near the grill. They have taken the grill off to paint it its original color, white.  In the bed of the truck the wood on the bottom must be replaced, and new cross members must be put in. All new parts used on the '56s are painted black.
The Fords are a great addition to the auto shop environment.   Not only do they help students advance their understanding of automobiles,  but it helps them find a creative outlet. These cars came before starting the car meant pressing a buttons, and there were screens to help people back up.   Manual Transmissions came before Automatics did, and every '56 in the shop is a Manual.
GHS auto students also had the opportunity to work on Mr. Rose's finest yellow 56 he pulled into the shop for some motor work, new valve springs, and brand new passenger side window.