Kanye West loses billionaire status after string of controversies
After several recent controversies, Kanye West,  now known as Ye, lost his billionaire status after being dropped by Adidas for promoting antisemitism. 
Now that Adidas no longer affiliates with Ye, his net worth has dropped from $1.9 billion to $400 million, according to Forbes. Other corporations who have cut ties with West include Balenciaga, Vogue, Anna Wintour and CAA Talent Agency. 
Before Adidas dropped Ye, he claimed, "I can say antisemitic shit, and Adidas can't drop me."
Those who have kept up with West's life know that this isn't his first controversy this year. In February, Ye began to attack comedian Pete Davidson, or "Skete" as Ye calls him, for his relationship with his ex-wife, media personality Kim Kardashian. 
Ye would go on Instagram and other social media sites and harass Davidson over jealousy for Davidson's intimate relationship with Kardashian, and possibly an unresolved mental health issue. 
Ye continued to comment on their relationship until the couple broke up in August 2022, and he celebrated the news by taking to Instagram and posting a photoshopped New York Times headline saying, "SKETE DAVIDSON DEAD AT 28."
After this internet fiasco, it was revealed that Ye had also opened a Christian private school called Donda Academy, named after his late mother. 
The opening of the academy may not seem as though it's that big of an issue, however, a $15,000 tuition and a requirement that parents sign an NDA have sparked negative conversation. 
On October 3, Ye staged a fashion show during Paris fashion week, revealing his newest designs. One such shirt displayed Pope John Paul II on the front, and the slogan "White Lives Matter" on the back. 
This stirred up more controversy for Ye, as the saying is widely perceived as racist. When pictures of his presentation found their way to social media, it was seen that far-right political commentator Candace Owens attended the show and wore Ye's design. 
It's been less than a month since Ye's expo, and much the world has now shifted to focusing on his most recent remarks, saying that he would go "death con 3 On JEWISH PEOPLE."
Ye tried to defend his statement by saying that black people can't be anti-Semetic because "black people are Jew also."
"The Jewish community, especially in the music industry…they'll take us and milk us till we die," said Ye on October 16 when he was interviewed on Revolt TV's "Drink Champs." 
Ye's blatant remarks of antisemitism are not only signs of his apparent ignorance, but also signs of his growing mental illness. In order to prevent future comments such as these from spreading, the world can only hope that Ye gets the attention that he needs, and soon.
Leave a Comment
About the Contributor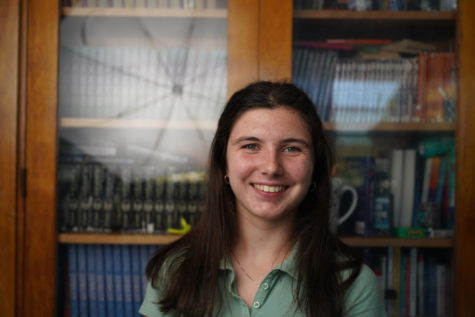 SOFIA ORLANDO, Multimedia Editor
Sofia Orlando is a junior at GHS and is now a second-year staff writer for The Gillnetter. She is an honors student and co-hosts The Gillnetter's podcast...