Local artist Alec Anand shows paintings at Tea Co.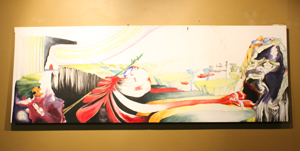 Looking for some fresh creativity? Check out  Alec Anand's new work now up at the Pleasant Street Tea Company in downtown Gloucester.
Featuring five of his paintings, the show piece  situated directly over the couch in the first seating area is a long horizontal surrealist piece that is the artist's favorite. "It was a pain to make, but I loved it." said Anand.
Anand, who graduated from Gloucester High School in 2014,  characterizes his work as "eclectic" including surrealism, abstract, impressionism , and contemporary elements.
"I want people to think deeper thoughts on the paths people choose to take." says Anand " I make plans, but they never have a definite route.  If people had more driven paths, they might be able to achieve their goals with greater ease."
When Anand showed  his work to Ali Varga at The Tea Company, she immediately told him to bring in more of his work.
The show is up indefinitely,  until the Tea Company calls him to take them down.  At the moment Anand is only exhibiting and not selling.  He wants to further the surrealist piece with a series before he feels ready to sell anything.
When he is not painting or drawing,  Anand plays guitar and is currently working as a carpenter.  He hopes to be working at Guitar Center in the near future. " I let my creativity flow when the time seems fit which, seems to be everyday." says Anand
He hopes to be exhibiting elsewhere soon, and is on the wait-list for the library exhibition space.