College applications in ten easy steps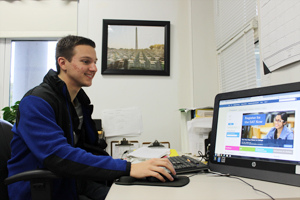 Seniors, it's that time of year again. As the year gets underway, so too does the college application season. I won't lie, the system is silly, convoluted, over-complicated and generally awkward. But, it's all we have. Therefore, it is important to follow some guidelines to make your process as smooth as possible.
1. RESEARCH SCHOOLS.
This is probably the most important step. Try to know the schools you are looking at front-to-back, and make sure they have what you're looking for in a school, because they're all different.
2. MAKE A LIST OF WHAT SCHOOLS YOU'RE APPLYING TO BEFOREHAND.
Knowing what schools you are applying to all at once saves you the hassle of half-completing the application for a school and then finding out they don't have what you're looking for, and having done all that work for nothing.
3. USE YOUR RESOURCES.
Your guidance counselor knows how to get kids into college. They have done it before, so talking to them can help you make sense of the process.  In addition, there are plenty of websites that can show you detailed information about any school you want to look up, such as collegeboard.com and naviance  – that site you were forced to sign up for freshman year.
Explore both sites to try and compile a list of schools that fit your needs.
4.  KNOW YOUR DEADLINES.
There's nothing worse than completing a whole application by december 1, only to find that the deadline was actually November 25. So, on your list of schools, keep track of what is due when, because again every school is different
5. ASK FOR RECOMMENDATIONS EARLY.
Teachers are busy people, and some of them are asked for recommendations every day.  Make sure you ask several weeks in advance, which not only gives them more time to write a great letter, but also ensures that yours will get done first.
 6. CHECK WHETHER OR NOT YOU NEED THE COMMON APP.
The common application (found at commonapp.org) is accepted by over 700 schools, meaning that filling it out could knock out 3 or 4 applications at once. The trick is that those 700 schools are not all in Massachusetts, so make sure to check to see if you even need to fill it out for any of your schools. In particular, some nearby schools that do not accept the common application are Salem State and Endicott.
 7. DO NOT WAIT UNTIL THE LAST MINUTE.
This cannot be stressed enough. If you wait, something will ALWAYS go wrong, and you may be deprived of acceptance to a great school. Colleges will not open your application until the deadline comes around, so it can't hurt to get them done and send them early.
 8. APPLY TO A WIDE VARIETY OF SCHOOLS.
Let's face it, you might not get in to some of the schools you apply to. That's why you have to apply to a bunch of schools with different requirements.
A good rule of thumb is to have at least 2 safety schools, where you have a 90% chance of getting in, based on your grades and test scores etc., At least 2 match schools where you have a roughly 50/50 chance, and at least 2 reach schools, where you have maybe a 10% chance to get in, but it is still possible. That way, you'll have the most possible options when the time comes to make the final choice.
 9. MAKE A RESUMÉ.
Chances are, you have done some pretty cool things over the course of your high school career. Community service, extracurricular activities, maybe even won a few awards. Ask your guidance counselor about making a properly formatted resumé. Most schools will take them and it will give a great idea about the things that make a school want to accept you.
10. DON'T STRESS!
It's been said that Proper Planning Prevents Piss-Poor Performance, and that rings true with college applications.
If you plan ahead, and get it done piece by piece instead, of trying to do it all at once, you can avoid the stress and have a better set of applications to boot!
Finally, don't worry about getting accepted to the school of your dreams, because schools want to have more people. They are looking for reasons to accept you, NOT reasons to deny you, so don't be scared to give it a shot.
Obviously, there is more to it than that, so once again remember to see your guidance counselor for help. They can help you make sense of it all, and it's their job to make sure you succeed. Good luck and happy hunting.