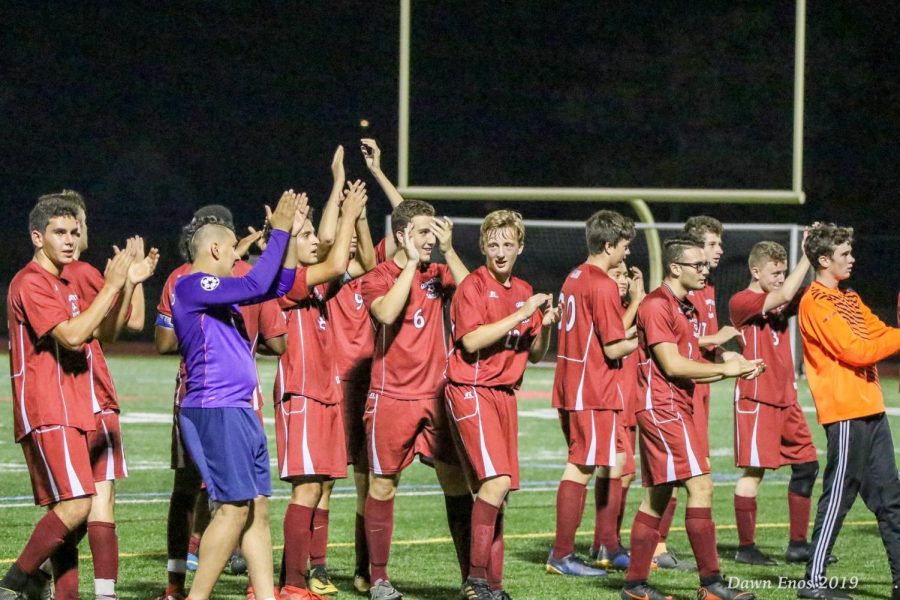 Boys soccer pulls off last minute comeback
September 24, 2019
Boys soccer got back in the win-column Monday night after a tough loss to Saugus on Saturday. 
After losing their first divisional game, this was one of their three games left against other D3 opponents. A loss would make playoff seem out of reach. 
The Varsity game kicked off at 6:00. Gloucester entered the game with confidence, in need of a win to get back on track. 
The first 15 minutes of the game were evenly matched with each team having a few early scoring opportunities. 
Captain Anthony Suazo scored the opening goal  on an indirect freekick inside the box. A few minutes later, Winthrop tied the game at 1-1 when they capitalized on a breakaway. 
Soon Sophomore Andrew Coelho drew a penalty kick for Gloucester. Suazo placed the ball in the bottom left corner to take the 2-1 lead. 
Winthrop scored another goal and the teams entered half-time tied at 2-2. 
Gloucester dominated the first 10 minutes of the second-half with numerous chances to score. The goal came when Andrew Coelho crossed the ball into the box where Suazo slid and hit the ball into the back of the net, completing the hattrick. 
For the next 20 minutes, Gloucester kept up the pressure. Winthrop was able to take advantage of Gloucester's high press when they scored on a counter-attack with 10 minutes remaining in the game. They scored again a few minutes later on a similar attack, taking the 4-3 lead. 
Just moments later, Winthrop had another great chance to score. The play turned out unsuccessful when Sophomore defender Jack Patten made an important goal-line clearance to keep Gloucester in the game. 
Gloucester continued to play hard through the last five minutes. There were running out of time and looking hopeless as the Winthrop crowd roared louder.
Their big chance came when Anthony Suazo crossed the ball into the box. With less than three minutes left, Junior Owen Hardy got on the end of the ball, shooting it off the post and in, tying the game at 4-4. 
After equalizing the score, Gloucester kept up the attack. With seconds left, Suazo was fouled in the box, winning a second penalty for Gloucester. Earlier Suazo took the penalty kick but with the game on the line, Coelho decided to step up for Gloucester to decide the game. 
He ran up and placed the ball into the bottom left corner of the goal as the whole team ran off in celebration. Gloucester pulled off yet another comeback with yet another game deciding last minute goal. 
Gloucester improved their record to 4-1-1 as they won their first divisional game and look forward to getting their second win today at 4pm against Division 3 opponents, Swampscott.